BOOK CLUB
Would you be interested in joining a book club?
Book clubs are a wonderful way to share your insights, opinions, and love of the written word.
The Friends of the Library Book Club invite you to join them the 3rd Thursday of every other month for an informal review of selected books. Meetings are in January, March, May, July, September, November.  The group chooses an array of popular, literary, and intellectual titles along with notable authors for their discussions.  If you would like to be a part of this group the next meeting is scheduled for Thursday, November 21st at 1:00 p.m. in the lower level of the library.
The book for discussion is The Leisure Seeker by Michael Zadoorian .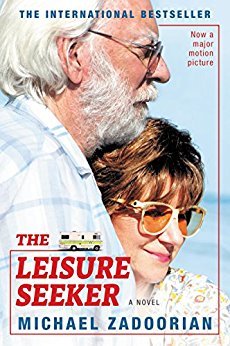 In Michael Zadoorian's, The Leisure Seeker, the Robinas have shared a wonderful life for more than sixty years. Now in their eighties, Ella suffers from cancer and John has Alzheimer's. Yearning for one last adventure, the self-proclaimed "down-on-their-luck geezers" kidnap themselves from the adult children and doctors who seem to run their lives and steal away from their home in suburban Detroit on a forbidden vacation of rediscovery. With Ella as his vigilant copilot, John steers their '78 Leisure Seeker RV along the forgotten roads of Route 66 toward Disneyland in search of a past they're having a damned hard time remembering. Yet Ella is determined to prove that, when it comes to life, you can go back for seconds—even when everyone says you can't.