BOOK CLUB
Would you be interested in joining a book club?
Book clubs are a wonderful way to share your insights, opinions, and love of the written word.
There will not be a meeting in July!
The Friends of the Library Book Club invite you to join them the 3rd Wednesday of every other month for an informal review of selected books.  The group chooses an array of popular, literary, and intellectual titles along with notable authors for their discussions.  If you would like to be a part of this group the next meeting is scheduled for Wednesday, Sept 20th  at 12:30 p.m. in the lower level of the library.
The book for discussion is Nightingale by Kristen Hanna.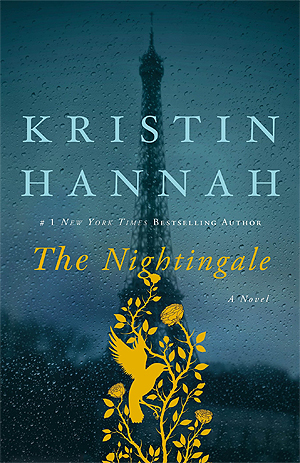 Despite their differences, sisters Vianne and Isabelle have always been close. Younger, bolder Isabelle lives in Paris while Vianne is content with life in the French countryside with her husband Antoine and their daughter. But when the Second World War strikes, Antoine is sent off to fight and Vianne finds herself isolated so Isabelle is sent by their father to help her.
As the war progresses, the sisters' relationship and strength are tested. With life changing in unbelievably horrific ways, Vianne and Isabelle will find themselves facing frightening situations and responding in ways they never thought possible as bravery and resistance take different forms in each of their actions.